.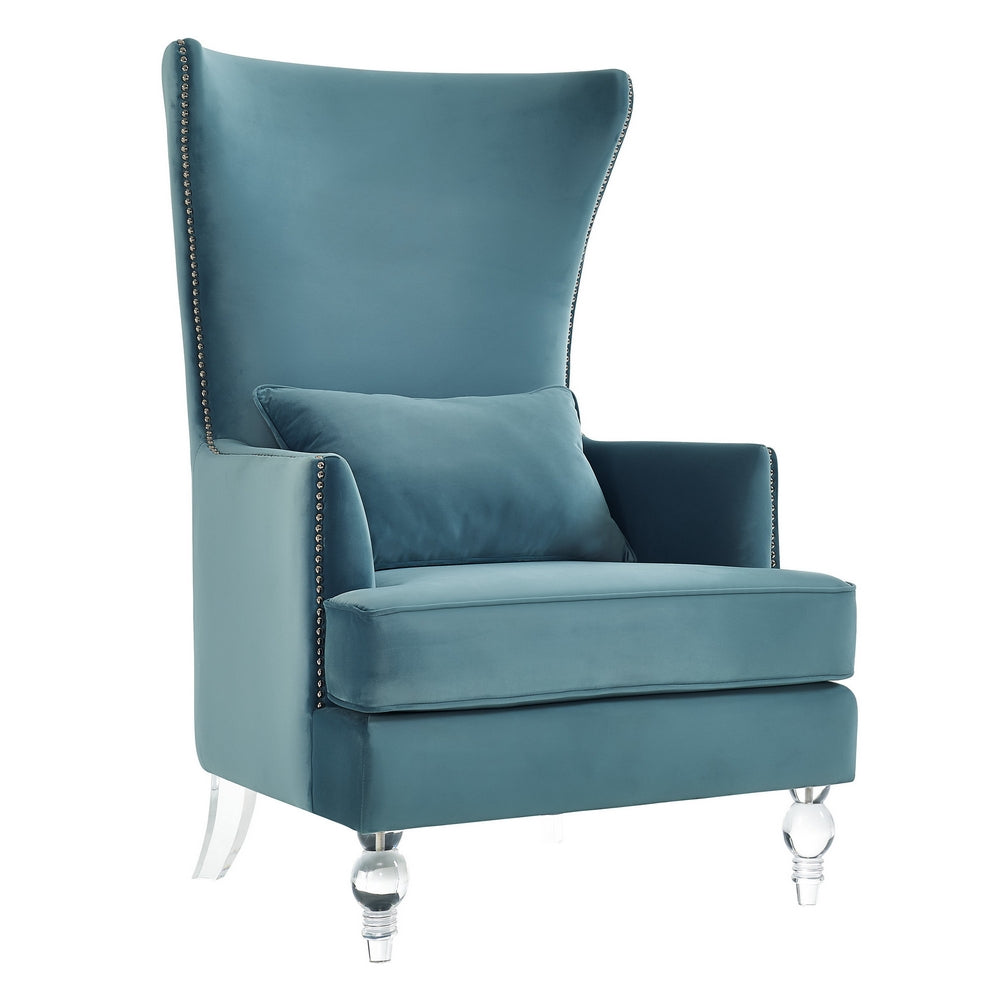 Bristol Sea Blue Velvet Tall Chair with Lucite Legs
Tall Chair (TOV-A139)
Materials: Velvet, Acrylic
Color: Sea Blue, Transparent
Dimensions: 33.1"L x 31"W x 48.4"H
Features: Handmade by Skilled Furniture Craftsmen; Kiln Dried Solid Wood Frame with Transparent Lucite Legs; Individually Hand-Applied Silver Nailheads; Removable High Density Foam Seat Cushion; Includes Matching Accent Pillow; Minor Assembly Required
Returns Policy
To be eligible for a return, your item must be in the same condition that you received it, unworn or unused, with tags, and in its original packaging. You'll also need the receipt or proof of purchase. Aetna Stores is not responsible for any damages and issues, including, but not limited to fading, losing stitching, tearing, breaking of any item you purchased from us after 30 days from the delivery date.
All returns are subject to a 25% restocking fee plus all storage and shipping costs arising from such return and associated with storing, shipping and delivering such item back to us (this applies even if not invoiced at the time of sale or when discounted) since we will not be able to resell such products to other customers at the same price (items are no longer considered brand new once returned to us) and product storage and shipping costs may be very high.
To initiate a return process, please contact us at info@aetnastores.com with your order number and details.
Shipping Policy
When you place an order, we will estimate shipping and delivery dates for you based on the availability of your items and the shipping options you choose. Depending on the shipping provider you choose, shipping date estimates may appear on the shipping quotes page.
Items are usually shipped via our contracting delivery company and delivered locally within a specific radius (excluding certain areas, including, but not limited to the ones that, for example, cannot be accessed via roads like Catalina Island).
We are doing everything possible to help you to get your order as soon as possible. It usually takes five (5) to twenty (20) business days for your order to be delivered. However, shipping and delivery times may vary depending on whether it's a small or large item, product availability, shipping method and/or delivery address. Please note that certain delivery types may not be available in all areas and/or for some item(s).